Quickly Analyze Apartment Building Deals with the Syndicated Deal Analyzer
Stop Spending Hours Analyzing your Commercial Real Estate Deals Analyze Deals and Make Offers in Just 10 Minutes
STOP WASTING YOUR VALUABLE TIME
Achieve Your Dreams Faster
With only a little information, the Syndicated Deal Analyzer can answer these questions in just a few minutes.
When I first got started, I created my own spreadsheet, but it took me four hours to analyze a deal to calculate my maximum purchase price. I even bought some analysis software but I couldn't customize them to suit my needs. It was holding back my ability to analyze lots of deals quickly. And I knew I had to look at a 100 deals before I would find the one that worked!
The Syndicated Deal Analyzer has helped me reduce my analysis from 4 hours to just a few minutes so that I can come back with an acceptable offer price. It lets you analyze more deals in a shorter period of time. This allows you to quickly dismiss the deals that won't work and find the deals that will.
Since the asking price of most buildings don't meet our buying criteria, it's not enough to say "this deal won't work for me." You need to be able to get back to the seller and be able to say "this deal won't work for me because XYZ, but it would work at this price, and here's how I came up with that number."
This immediately starts the negotiation process, lets you test the seller's motivation, and gets you closer to your next deal. You've probably seen a bunch of other calculators, but here are three reasons why the Syndicated Deal Analyzer is different (and better!):
The Syndicated Deal Analyzer is transparent and customizable.
You can purchase financial models from other sources but they are either "black-box" software or non-editable spreadsheets. In either case, you can't understand and learn the formulas behind the numbers and you can't customize them the way you want. The Syndicated Deal Analyzer is a fully customizable Excel spreadsheet, and all formulas are clearly visible.
The Syndicated Deal Analyzer incorporates returns for investors and compensation for yourself.
I have not seen a financial model out there that lets you "play" with different investment structures for your investors (such as simple loan, straight equity, preferred rates of return and combinations thereof). The Syndicated Deal Analyzer also shows you the impact on your returns if you pay yourself. The guideline is, you can pay yourself as much as you can as long as your investor returns are achieved. But how much?
The Syndicated Deal Analyzer can be used to create a Deal Package in minutes.
Once you completed your deal analyzer, the Syndicated Deal Analyzer makes it easy to copy and paste all aspects of the deal to a Deal Package that you can give to your investors, bankers, and other professionals.
About Michael
My passion is being an entrepreneur and helping others become (better) entrepreneurs. My focus is buying apartment buildings by raising money from private individuals. I've been investing in residential and multifamily real estate since 2005 and began syndicating deals in 2010.
I helped start a software company that eventually went public. I have flipped houses, own commercial real estate and operate pizza restaurants. I enjoy starting and growing companies, I love making sense of chaos and taking calculated risks. I especially enjoy the "art of the deal": raising private money and putting deals together. I enjoy in equal measure teaching. I have taught computer science courses, financial literacy classes to adults and children, and courses on how to buy apartment buildings.
Because of my experiences as an entrepreneur in different businesses, I feel I can help others gain the knowledge and confidence to take the first steps as an entrepreneur, or to become better at what you're already doing as an entrepreneur.
With the purchase of the Syndicated Deal Analyzer, you get access to these 9 training videos with a 90-Minute Run-Time
Video #1: One of your Brokers Sends You a Deal, Now What — Chapter Overview
This short video gives you a tour of the Syndicated Deal Analyzer by walking you through the analysis of a deal from start to finish.
Video #2. The 10-Minute Analysis
In this video, I'll show you how to answer the question "what is the MOST I can pay for this apartment building deal?" The Syndicated Deal Analyzer lets you do this quickly so that you're not spending hours analyzing a deal. This lets you quickly get back to the broker or seller with something like "this deal doesn't quite work for me, and here's why". As you're looking for other apartment buildings to buy, you can't afford to spend hours analyzing each deal. Even in this phase, the Syndicated Deal Analyzer incorporates different investor scenarios into the analysis.
Video # 3: Understanding Investor Returns and Structuring the Deal
In this video we'll talk about what kind of returns investors look for and different ways to structure the deal. We'll then use the Syndicated Deal Analyzer to look at the effect of the investor returns on our deal analysis. Quickly being able to incorporate your investors into the analysis is key when buying apartment buildings with private investors.
Video #4: How to Pay Yourself
Learn how you can pay yourself when you're syndicating an apartment building deal. Use the Syndicated Deal Analyzer to quickly see the effect of paying yourself at different points of the transaction on the financial model.
Video #5: Sharpening Your Pencil – When and How to Overpay
In this video, we'll use the Syndicated Deal Analyzer to look at different scenarios side by side. Look at the numbers as reported by the seller next to "your version of the truth". For example, if the seller-reported expenses are only 30% of income, what would be the value of the building with more realistic expenses of 45%? This part of the analysis is critical when negotiating the maximum price you're willing to pay.
Video #6: Fine Tuning the P&L
Learn how to fine tune the projections with your particular business plan. Perhaps the vacancies and expenses are high, or rents are below market. If you could raise rents by 20% and lower expenses by 15% over the next 3 years, what impact would that have on your projections and your investors' returns? This part of the Syndicated Deal Analyzer lets you answer those question
s quickly.
Video #7: Estimating Due Diligence and Closing Costs
The Syndicated Deal Analyzer quickly estimates your closing costs using rules of thumbs. As you progress through due diligence, you're able to override some of these values so that your estimates become more and more accurate. Due diligence expenses and closing costs are often over-looked by real estate investors, and estimating them quickly and accurately are key for investing in apartment buildings.
Video #8: Determining the Most Profitable Exit Strategy
What produces the best return? A sale in Year 4 or 7? What if you refinance after the third year and hold for the next 7 years? I'll show you how to model different scenarios so that you can determine which one produces the highest returns for you and your investors.
Video #9: Reviewing the Deal & Creating the Investor Deal Package
In this video, we put it all together! We'll review the deal as we've analyzed it so far, including what we're paying ourselves and what our investors' projected returns are. When we're all done, we'll use the Syndicated Deal Analyzer to produce a Deal Package we can give to our investors.
Why You Should Purchase the Syndicated Deal Analyzer
Consider Your Time
You could probably build an analyzer yourself, but how long would that take you? Wouldn't your time be better spent looking for deals than building an analyzer from scratch?
You will learn how to analyze a deal
You're getting so much more than just the Excel spreadsheet software. You're also getting access to 7 additional videos that teach you how to analyze a deal and decide what you should (and shouldn't pay) for the deal.
It will add instant credibility
It will add instant credibility to you as you strive to be taken seriously by investors and other professionals, especially if you're just starting out
Premium Support
If you have a question about the Syndicated Deal Analyzer, or something's not working right for you, please contact me and I'll see if I can help.
Free Updates
As I continue use the Syndicated Deal Analyzer myself and get feedback from others, I will make updates and email those out to you at no additional cost.
Unconditional 60-Day Money-Back Guarantee
If you're not completely satisfied, I will give you a complete refund within the first 60 days. Keep the software and the videos, and let's part as friends, no hard feelings.
However, I'm convinced that you will be impressed with the power of the Syndicated Deal Analyzer and you will acknowledge that it will be an indispensable tool as you pursue your apartment building investing career.
— Aaron Howell, Charlottesville, VA
— Drew Kniffin, Seattle WA
— David Sweeney, Seattle WA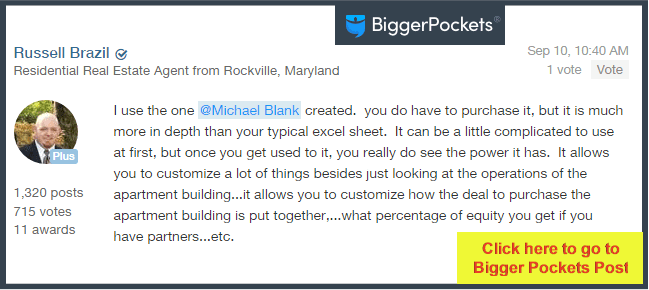 I used the Syndicated Deal Analyzer to analyze my first deal and I'm impressed with the results. I'm not in due diligence yet, so I ignored some of the more advanced features and focused on calculating my max buy price, which I was able to do in less than half an hour. I also like the fact that I can completely customize the calculator. I am planning to have investors in the deal, so having that included in the projections is key for me. I've been used to residential investments. So, I was not sure where to start with commercial calculations. Building my own would take me hours and probably months of work. I would highly recommend it to anyone serious about investing in apartment buildings, with or without investors!
As a syndicator/sponsor of several real estate deals, I have tried lots of different software, cash flow models, etc. Most of them I would just end up modifying so much to the point where I simply created my own version. The Deal Analyzer from Michael Blank is easily the best one I have used to date. It is very detailed and really caters to the sponsor who is looking to analyze a deal targeted to his or her investors. The projections are well laid out, specifically the 5 and 10 year return sections which do a great job showing the sponsor and investors how the deal will play out over the targeted hold period. In all I am very pleased with the Deal Analyzer and would highly recommend to any syndicator looking for a detailed model to quickly project cash flows and returns to both the sponsor and investor over a specified time period.
Just a note to say thanks. I did use the software on a little 7 unit complex I'm in contract for with a partner. Picking it up at a 9 Cap performing and will be close to an 11 once optimized at around 10K gross a month. Thanks for your help with the software as it was easy to go through everything and get it over to my investor. Thanks again.
I think the Syndicated Deal Analyzer is very practical for analyzing deals. It incorporates all of the underwriting requirements I look for when I get a loan package. As an investor myself, I really like the rules of thumb so that users can get an idea of how legitimate (or, more likely, illegitimate) the seller's financials are compared to what they should expect when owning the property and properly managing it. It really takes a lot of years and seeing a lot of transactions, appraisals, etc. to really understand the true expenses. And nothing is more important than being able to put together real (and conservative) projections. Also, it is important to understand how lenders will view the operating statement when calculating debt coverage, especially so with apartments where cap rates are typically low and meeting debt coverage requirements are very important to maximizing loan proceeds. I really think that someone could utilize this tool to buy their first apartment building and not encounter a lot of mistakes that would be typical for a first transaction.
The deal analyzer has been a no brainer investment. Having me and my investors returns calculated quickly and easily visible in the summary section allows for a quick analysis of different scenarios to see if a deal will work or not. This makes my life quicker and easier. It's for investors created by an investor and allows me to edit the formulas to my needs when necessary. On my last deal package I spent hours putting together the financials and getting them into my powerpoint presentation. My next shouldn't take me more than an hour with this tool. Well worth it…and at $100 its a no brainer. My only issue is not having a user friendly iphone app to go with it!
I went ahead and purchased your deal analyzer, watched the videos, and assessed the analyzer itself. Forgive me when I say this but, F'ing A this thing is awesome! I can't imagine how many hours you put into developing this spreadsheet but thank you for doing it! This is definitely a "work smarter not harder" kind of resource that I will be using exclusively from now on. I'll be using it this week to assess an off market opportunity that is 2 properties and 29 units total. I'll keep you in the loop
Michael's Deal Analyzer is great because it prepares you to focus on all of the various aspects of putting your deal together to provide you with the desired outcomes to achieve/exceed set goals for each party involved in your transactions.
The Syndicated Deal Analyzer is an excellent tool allowing both novice and experienced investors to analyze deals quickly and efficiently. Being able to provide a clear and concise side-by-side analysis of actual and pro forma data is invaluable when presenting information to potential investors. The Syndicated Deal Analyzer has truly made analyzing investments easy.
I've really enjoyed using the Syndicated Deal Analyzer. It makes deal analysis easy and quick compared to other programs that I've tried. I like how it puts analysing the syndicate and property all in one program. I would recommend the Syndicated Deal Analyzer to anyone serious about syndication.
Special Bonuses
If you decide to take action you'll get THREE bonuses:
BONUS # 1: INVESTOR DEAL PACKAGE WORD TEMPLATE
Take my deal package and modify it to quickly create one for your investors and lenders.
BONUS # 2: TWO VIDEO CASE STUDIES
Watch me analyze two different deals from beginning to end. Normally only for my coaching students, these 45 minute video sessions will cement the concepts learned and make you a deal analysis master!
BONUS # 3: 39-page eBook "The Syndicated Deal Analyzer: The Ultimate Guide to Analyzing Apartment Building Deals"
You can download and read on the go if you prefer reading instead of or (better yet) in addition to the videos. Step-by-step and full of screen shots.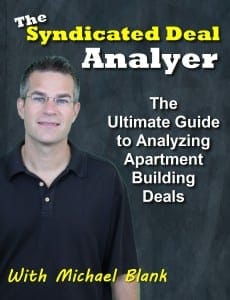 Syndicated Deal Analyzer Instant Download
($200 Value by itself)
9 Training Videos totaling 90 minutes
($150 Value)
60-day Money Back Guarantee
BONUS # 1: Deal Package Word Template
($50 Value)
BONUS # 2: Two Video Case Studies
($75 Value)
BONUS # 3: 39-Page eBook "The Syndicated Deal Analyzer"
($100 Value)
Total Value: $575
Your Cost: Just $99
VALUE to you: Priceless
Thanks, and I look forward to welcoming you as one of my customers!