Turn off CNBC. Skip reading the fear-mongering headlines. The so-called experts want you to think the economy is headed for ruin and it's a terrible time to invest in real estate.
Don't fall for it.
Their goal is to generate clicks, not make you rich.
The truth is this is one of the BEST times ever to start syndicating apartment deals.
In fact, a down market creates huge opportunities for those with the courage to take action.
Don't Believe the Hype – Now is the Best Time Ever to Syndicate Apartments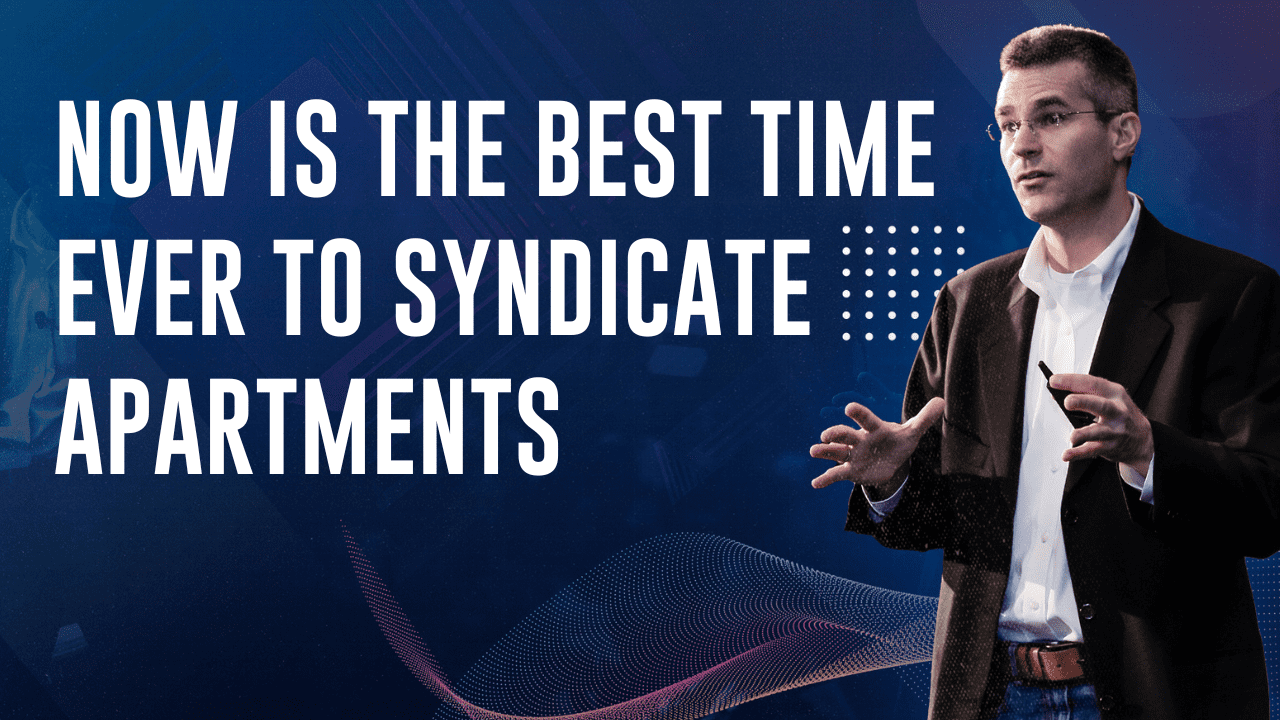 Here are 5 reasons savvy investors are raising millions to syndicate right now:
Lower Asset Prices
Interest rates are rising and real estate prices are starting to moderate in many markets. While this may scare away amateur investors, experienced syndicators see an opportunity.
Moderating prices means you can acquire properties for less than peak 2022 pricing. Less equity is required per deal, meaning you can stretch your investment dollars further.
There is far less competition from large institutional players, so a smart syndicator can more easily source off-market deals at very attractive prices. Locking in real estate now means incredible upside when values start climbing again.
Interest Rates Are Still Historically Low
Yes, rates are up from 2020 rock-bottom levels. But they are still incredibly attractive by historical standards. Securing long-term fixed rate financing in the 5-7% range allows you to lock in a low rate for 30 years. Compared to the 10%+ rates of decades past, this is an incredible opportunity.
And it allows you to achieve strong cash-on-cash returns even if appreciation slows in the short term. Savvy syndicators are working with lenders now to lock in rates before they climb further.
Less Competition From Big Institutions
Many large private equity firms and REITs piled into real estate when the Fed flooded the system with easy money. Now they are pulling back, wary of a slowing economy and overweight in real estate already.
This leaves fantastic opportunities for smaller, nimble syndicators who can move quickly and have direct access to off-market deals. While the big players retreat, now is your time to advance.
Forced Motivation for Existing Owners to Sell
The rapid rise in asset prices over the past few years has created a lot of embedded gains for existing property owners. With gains come big tax liabilities if they sell. Many owners are willing to hold at peak values to avoid the tax hit.
But now with prices moderating, the motivation to sell increases. Carrying costs are rising with inflation and interest rates. Refinancing existing low-rate debt is expensive.
Lower prices mean less tax liability on sale. And flat or negative appreciation decreases ongoing cash flow. All of this creates prime conditions for existing owners to sell into strength. And opportunity for syndicators to acquire at attractive prices.
Higher Returns Possible During Market Swings
The combination of moderating asset prices and rising interest rates decreases competition from major players. This allows smaller syndicators to acquire at attractive valuations. Higher leverage costs are offset by locking in below-market asset pricing.
This means higher cash-on-cash returns are achievable right now. And because you are buying near the bottom of the cycle, exceptional upside exists when values climb again. This potential for outsized returns in a short window is exactly why sophisticated investors stay active in times like these.
As a savvy real estate investor, you know facts over hype. While others are paralyzed by fear, you're motivated by opportunity.
Now is the time to tune out the noise and focus on the incredible potential.
On Tuesday, July 25th at 5pm PST, join our elite panel of syndicators who have each raised 6-7 figures in the last 6 months for an exclusive training.
They're going to show you the specific tactics they're using to attract investors and raise millions to deploy into amazing deals this year.
You'll discover:
How to become an investor magnet no matter the economy
Inner game funding tactics to build unstoppable confidence
Proven objection turnarounds to close capital
The #1 asset you MUST have to raise money
How to create a capital raising machine that works in any economy
Now is the time to make your syndication dreams happen.
Don't fall victim to fear-based thinking and miss out on a massive opportunity.
Jump on this rapidly closing window of opportunity and position yourself for incredible returns.
Register here for the exclusive webinar today – spots are filling fast! >> https://themichaelblank.com/ynpx