You've decided you want to invest in real estate and generate passive income. You have choices ahead bout how to begin. You might be wondering which is best for you, investing in real estate syndication or REITs.
To examine the difference between the two, let's start with the basics.
Real Estate Syndication vs REIT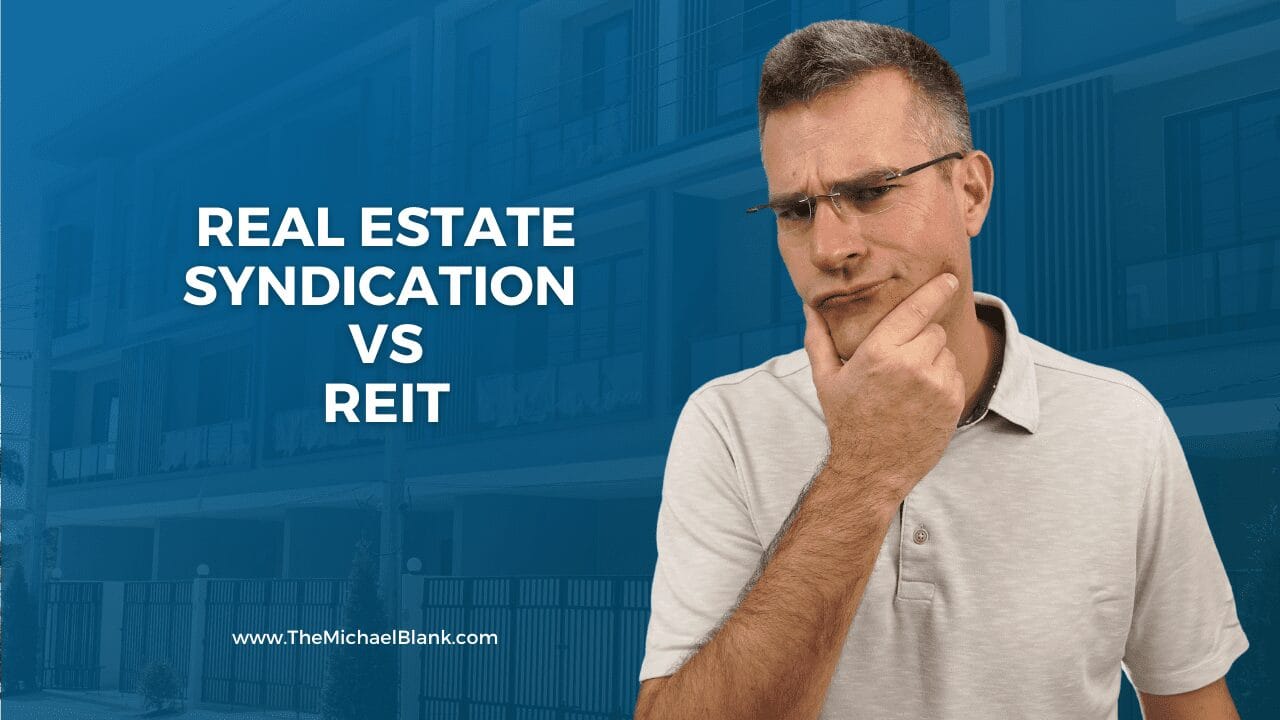 Make sure you download ALL my resources for FREE at this link: https://themichaelblank.com/vault
What is a REIT?
Simply, a real estate investment trust, or REIT, is a company that owns, operates, or finances income-generating real estate.
You can think of an REIT as similar to a mutual fund in that it pools the capital of investors, and those investors earn dividends without having to buy or manage the properties themselves.
What is real estate syndication?
Real estate syndication is a partnership between several investors who join their resources to purchase a property that they wouldn't be able to purchase individually. These investors work together to manage the property.
What are the primary differences between the two?
Number of Assets
If you invest with a REIT, you are investing in a company that holds a portfolio of properties that exist across multiple markets.
Properties included in a REIT portfolio may be apartment buildings, but also things like healthcare facilities, hotels, and cell towers.
Real estate syndications, on the other hands, are investments in a single property. As an investor, you know exactly where and what this property is.
Ownership
When you invest in REITs, you are buying shares in a company. You do not own the underlying real estate, but rather shares in the company that owns those assets.
When you invest in a syndication, you are investing directly in a specific property. Together with the other limited partner investors and general partners, you own the entity that holds the asset.
In short, you have direct ownership.
Access
The majority of REITs are listed on major stock exchanges, just like any other public stocks. You can invest in REITs directly, or you can invest through mutual funds or exchange-traded funds.
Because most REITs are publicly listed, they are easy to find and to invest in.
Real estate syndications, on the other hand, can be more difficult to find, and the process to invest can involve a bit more time and effort.
Investing in a real estate syndication requires you cultivate connections. It can take longer for you to find these deals, review the opportunities, and work through the legalities.
Many real estate syndications are only open to accredited investors, for instance.
Minimum Investment
When you invest in a REIT, you are purchasing shares, some of which can be purchased for very little money.
Syndications, on the other hand, typically have higher minimum investments. You will need quite a bit more capital to invest in a real estate syndication than a REIT.
Liquidity
Just like stocks, REITs are considered a liquid investment. Your money is not locked in for a set amount of time.
When you invest in a real estate syndication, the business plan often includes holding the asset for a certain amount of time, during which your money will not be liquid.
Tax Benefits
Tax benefits are one of the biggest benefits of investing in real estate.
When you invest directly in a property, through a syndication, you get the benefit of a variety of tax deductions, including depreciation.
When you invest in a REIT, because you're investing in the company and not directly in the real estate, the tax benefits are not as great.
You do get the benefits of depreciation, but those are factored in before you get your dividends, so you don't get any tax breaks on top of that, and you can't use that depreciation to offset any of your other income.
Which one is right for you?
If you are just getting started in real estate investing, you only have $100 or $1000 to invest, and you wanted to invest that money right now, a REIT might be right for you.
But you've probably already guessed that we feel real estate syndication is probably the better investment for you, especially if you have more to invest.
Either way, investing in real estate is a great bet.
In fact, apartment building investing is the single best real estate strategy to get yourself to financial freedom!