Hiring your property manager is probably the most important decision you'll make, aside from actually buying the property, because the success of the project depends on the quality of your property manager.
A good manager will make your life easy a bad one? Well, not so much.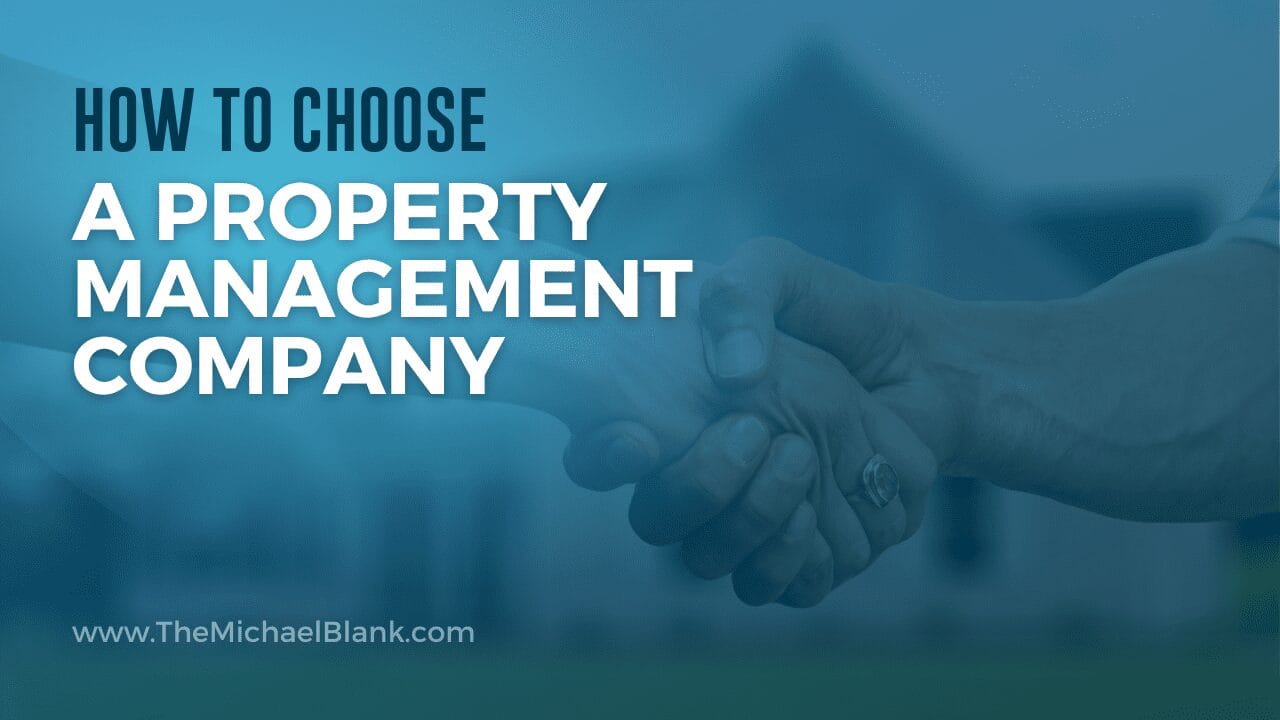 Make sure you download ALL my resources for FREE at this link: https://themichaelblank.com/vault
How to Choose a Property Management Company
Let's go over the steps you should take before you hire a property manager for your real estate deal, and what to do after you bring them onto your team.
Not only will your property managers manage a property for you, but they also play a key role during due diligence process. Long before you put a property under contract, a good property manager will help you assess your business plan for the property.
The best way to find property managers is to ask for referrals primarily from real estate brokers. They should know at least a handful of good property managers they do business with all the time.
The question is, how do you recognize a good one?
Here are three steps for selecting the best property management company for your property.
Number One
Interview your potential property managers and ask them these questions:
How long have you been in business?
You might want to consider someone you like who only has a year of experience, but in general, the longer they've been around the better.
What size property do you manage the most?
If you're looking to purchase a fourplex building, don't interview a company that specializes in 100+ unit buildings. The processes and procedures are totally different for these kinds of buildings. Make sure there's a match there.
What are your management fees for this size building?
What is your leasing fee?
The fee structure for management fees generally range from 4% for larger properties to 10% for much smaller properties. For single family houses, for example, leasing fees range from a half a month to a full month rent.
The only other type of conversation is a markup for repairs, for example, typically 10% of the repairs.
What is your process for handling repair requests?
How do tenants make requests?
How quickly do you typically respond?
Who does the work?
You're looking for a well-defined process, preferably one where tenants can log in online or through an app. This gives you transparency.
Your property manager should have a network of contractors who are already working with to handle repairs to the property and they may charge up to 10% over and above what the contractor charges for the repair, or maybe they're using their own staff.
You also want to ask how emergency and non-business calls are handled.
How do you ensure that their prices continue to be competitive over time?
How do you collect rents?
Who keeps the late fees?
Offering automatic debit, for example, shows a higher level of sophistication than someone who collects the rent in person.
Late fees can go to the managers or go to you. This is negotiable, so just know this upfront.
What are your management policies?
When and how do you handle lease violations and evictions?
You're looking for a fair and consistent process. For example, the manager might say the rent is considered late on the fifth day of the month, at which point I will send out a late letter warning them they will have until the 21st day to pay their rent or we will start the eviction process, and then file the eviction on the 22nd day if no payment is made. I will continue to communicate with the tenant through the entire process.
That is a sign of a fair and consistent management policy.
You might want to know how many evictions you've handled and what is the cost of a typical eviction. Make sure you ask update your financial analysis accordingly to the cost summary and the expected vacancy and delinquency rate for the area.
At a minimum, you should expect the income and expense statement in a rent roll each month both are typical. You also want to see any kind of delinquency or extra credit. You could ask for repair and maintenance report a documents.
Throughout all this, that you interview at least three property management companies and that's going to give you a better feel for what to look for and help you decide which company you'd like best.
Number Two
Review the managers document at the end of your meeting. Ask the manager to send you a sample of his or her contracts, look at leases, late letters, etc. and request a list of references.
Number Three
Check references. If you like what you've heard so far, the answer to the questions makes sense, and the documents look pretty good, call the rest of the references and ask for references the following questions:
How happy are you with a manager?
What is he or she doing particularly well?
What is one thing he or she could improve?
Why would you recommend your manager?
Number Four
Review the property management agreement. The devil is in the details. Read that management agreement carefully. Sometimes there are weird things in there. For example, One of my contracts stated that the property manager has 30 days to exercise a first right of refusal to purchase a property. I don't want the manager to lay a contract for that period of time. So, read that thing carefully and ask any questions.
Now that you have all the information about the proper manager, it's time for a little bit a gut check. You have a lot of information here. Sometimes the person looks good on paper but your instinct is telling you something is off.
Listen to your gut as you're making your decision.
Once you're closing and you've given the keys to the management company, that company should communicate to the tenants that there's a new manager in charge. They're probably going to communicate a new mailing address and a new phone number, or maybe even some new rules and regulations.
Be aware that bringing out a new manager may cause several tenants to stop paying the rent. My theory is that these tenants are testing the new managers see what they can get away with. How the manager responds quickly, consistently, and fairly will determine the level of respect they get from the tenants.