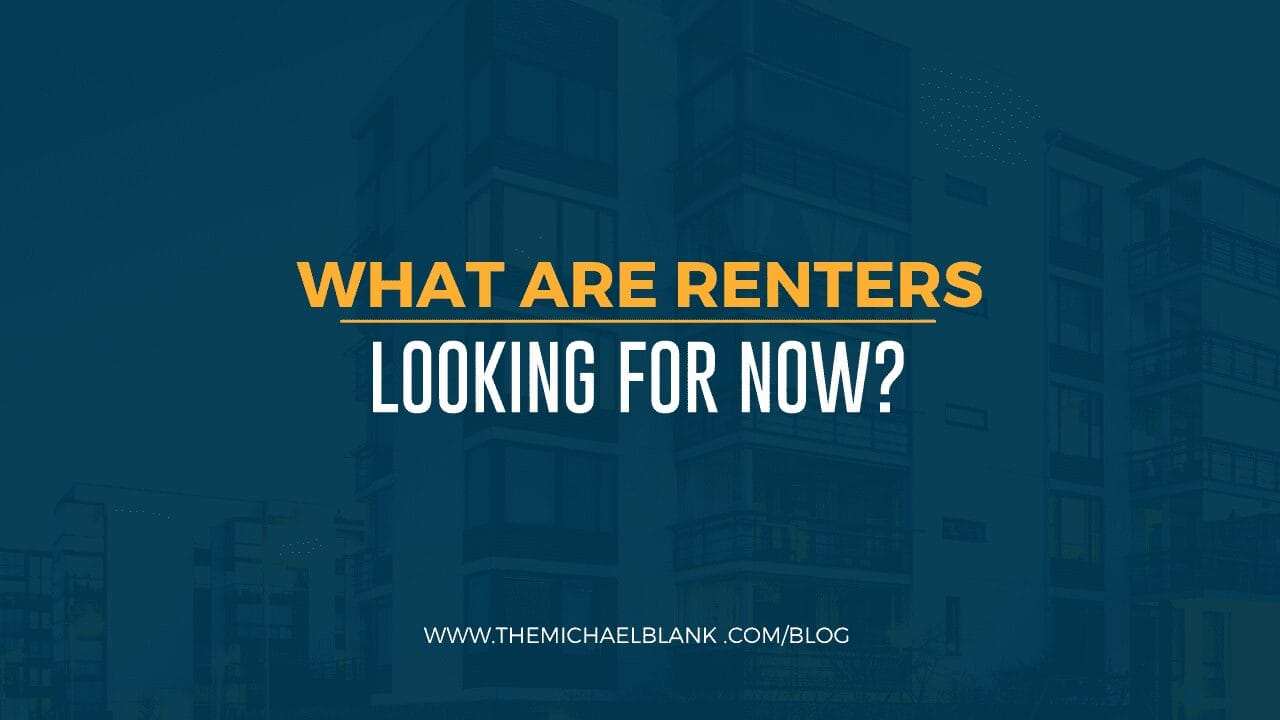 Make sure you download ALL my resources for FREE at this link: https://themichaelblank.com/vault
As a multifamily real estate investor, you're probably wondering what apartment renters are looking for right now in the current economic market. With ongoing shifts due to the pandemic and economic uncertainty, you probably want to stay up-to-date on the latest trends and preferences of renters.
What Are Renters Looking for Now?
The truth is, renters are always looking for some basic things, no matter the economic landscape.
Things to consider when showing your property:
Affordability: There's no denying, the cost of living has gone up significantly in recent years, and renters are looking for affordable options when it comes to renting an apartment. They want to make sure that they can comfortably afford their rent without compromising on quality.
Location: Renters are still interested in apartments that are located in safe neighborhoods with good access to transportation, amenities, and entertainment options. Proximity to grocery stores, restaurants, and shopping centers is also important. School district definitely matters.
Parking: Renters want to know that when they come home after work or shopping, there will be a dedicated place to park their car. No one wants to have to circle their building like a shark searching for a place to land.
Move-In Ready Conditions: When you show an apartment, it should be repaired, clean, with upgrades completed so the renter can envision themselves moving right in. First impressions go a long way. If a renter moves into a shabby apartment that needs repairs, that will inform how they treat the property.
Outdoor spaces: With more and more people working from home, many renters are looking for apartments with outdoor spaces such as balconies, patios, or communal outdoor areas. This allows them to enjoy fresh air and get some exercise while staying safe. You want to pay attention to curb-appeal.
Features: Renters want to move into apartments where the appliances are included. Some may also be looking for apartments with smart home features such as keyless entry, smart thermostats, and voice-controlled lighting. Everyone appreciates features that make their lives easier and more convenient.
Energy Efficiency: As climate change becomes more of a concern for renters, they may be looking for apartments that are energy-efficient and sustainable. Features such as energy-efficient appliances, LED lighting, and low-flow faucets can help attract environmentally conscious renters.
Flexibility: With changes in the way we socialize and work, renters are looking for flexibility when it comes to lease terms. Short-term leases or the option to renew on a monthly basis can be a big selling point for renters who are uncertain about their future plans.
Security: Everyone wants to feel safe and secure in their home, whether they own or rent. Features such as security cameras, on-site security personnel, and secure entrances can help ease their minds.
So while the current economic conditions do come into play, for the most part, apartment renters are looking for affordable, convenient, and safe living options, as they always have been.
As a multifamily real estate investor, it's important to keep these preferences in mind when renovating or developing your properties.
By providing renters with the features they're looking for, you can attract more tenants and maximize your rental income.