Do you want to know a secret?
Over 90 percent of the world's millionaires have used real estate to build their wealth.
It's not through their own primary residence, house hacking, or flipping. The secret to how these millionaires built wealth for themselves and their families is through investing in apartment buildings.
You don't need experience to get started in passive investing. Real estate is the best alternative to the stock market and today, we're sharing more secrets to help you get the most out of passive investing.
Passive Income Secrets for Getting the Most out of Your Passive Investing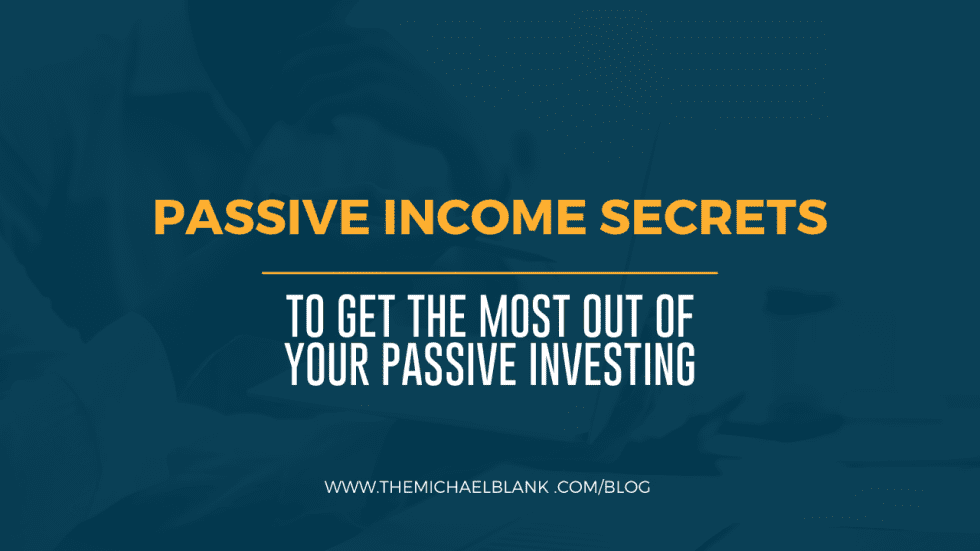 Make sure you download ALL my resources for FREE at this link: https://themichaelblank.com/vault
Focus on Your First Investment
Stay focused on that first deal. Don't get overwhelmed by looking too far ahead; stay in the present moment.
As you analyze that first deal and make your decision, clarity is essential. You gain clarity by staying focused on this first step. Your first deal should be as big as possible, but also achievable.
That's why clarity is key. You need to know where you are and what's feasible for you in this moment.
Set Goals to Stay On Track
Your goals need to be measurable. Set a time frame for yourself, and dedicate yourself to that timeline. Give yourself enough time to get things done, but don't set your goals too far out in the future.
Identify three things that you will accomplish each day. Keep a checklist and track your tasks as you complete them.
Another secret to success – once you've set your goals, state them clearly and over and over, multiple times. State them in the present tense, as if they've already been realized.
You need to know what your goals are, but you also need to know why you set that goal in the first place.
Why did you become interested in real estate investing and what do you hope will be the result of your endeavor?
Most likely, you want to improve your income so that you can build a better life for yourself and your family. That's what most of us are working for.
Stay Optimistic
All successful people have this one thing in common. They know they can't control their circumstance, but they can control how they react to their circumstances.
Knowing who you are are and what you want enables you to respond to whatever life throws your way.
Knowing your own character, who you are and who you want to be, is the first step in building the mindset that will get you where you want to go.
To stay in a positive, productive mindset, you'll have to let go of limiting beliefs.
You also want to consider balance. A helpful mindset shift is one away from urgency and toward efficiency. Notice how differently those two concepts feel.
When you work efficiently, you do better work in less time and can create space in your schedule for other activities – the life you want to be living.
Spending time with the people you love doing the things you love is necessary to the equilibrium of working hard and achieving your goals. Less stress means less burnout.
Remain fluid and flexible and you may be surprised how much you can accomplish.
Believe in Your Strategy
Financial Freedom through real estate investing isn't going to happen over night, but that's okay.
The long-term wealth that you can generate with apartment buildings can be significant.
Accumulating a portfolio of apartment buildings is the single best way to achieve your financial goals. You may have been told to start small and work yourself up to apartment buildings. That may be the best advice for you and it may not be. Only you really know the answer.
You may be starting slow, but as your investments grow, so will your wealth.
Save This on Pinterest for Later: